Today on my stop of the Seven Years blog tour I have my review and you can scroll on down and read an excerpt and enter the giveaway . Don't forget to drop by the other blogs on the tour.
Seven Years
(Seven Series, Bk #1)
By Dannika Dark
Blurb:
Seven years ago, my world ended.
Seven years later, my new life began.
It's been seven years since Lexi Knight lost her brother in a tragic accident. On the anniversary of his death, her brother's best friend shows up unexpectedly - a man she hasn't seen since the funeral. He is no longer the boy Lexi once knew, but a dangerous-looking man with tattoos and dark secrets. He broke her trust and abandoned her family, yet what he reveals makes it impossible to stay angry. Lexi has been secretly infatuated with Austin since childhood, so finding out he's a Shifter just makes him sexier. Dammit.
Austin Cole has returned to the city where he grew up, and just in time. He's lived a hard life these past seven years, and the shadows of his past are threatening to destroy Lexi's family. It's time that she learned the truth about her brother, but there is a shocking twist that Austin never saw coming. Now he must protect her family when her mother and sister wind up in mortal danger. Will Lexi learn to accept the truth about who he is, and can Austin salvage a relationship from the ruins of their past?
Available for purchase at
The closer I snuggled up to Austin, the more I craved that cozy familiarity—more than I would have cared to admit. I'd missed him. How do you not miss someone who was a huge chunk of your childhood and young-adult life who disappeared off the face of the earth? Almost every memory I had from kindergarten to age twenty involved Austin Cole.
The next thing I knew, my cheek rested on his bicep and I tucked my body against his like a puzzle piece.
Just when I closed my heavy eyelids, he groaned.
Oh God, please don't let him wake up now.
It was deep and guttural, and he shifted on his right side, facing me.
"You okay?" he murmured.
I didn't reply. I played dead and pretended I was asleep. It seemed like a good plan to avoid the embarrassment of explaining why I was latched on to him like a man-sucking leech.
A rough, warm hand cupped my cheek and I felt him scoot down a little. Maybe he thought I had fallen asleep, because his thumb brushed over my right eyelid softly.
Five times. I counted.
When his lips lightly touched mine, my brain just shut down. It was a soft, almost nonexistent kiss, but I felt it all the way down to my toes. Then it zinged back up to my hips and damn if I didn't moan.
Now we were both aware I wasn't asleep and he was kissing me. But it didn't stop. His kiss pressed a little bit harder and tingles roared through my body, and my breath was shaky and erratic.
When his tongue touched my lip, I quickly opened my mouth and kissed him back.
Hard.
Deep.
Kissed him like I'd fantasized about doing for the last seven years.
This is the segment where you learn a little more about who I am, so here's what I can tell you: I drink copious amounts of vitamin water placed precariously close to my laptop while writing. These are two healthy habits I have no intention of breaking. I'm a transplant living in the south, but I was born in the 70's to a military dad who moved us around the world.
When I'm not writing (which is all the time), I'm hunting down Indie music, watching movies, reading, eating Tex-Mex, discovering new ways to humiliate myself bowling, and burning up my laptop battery on the Internet. I have a relaxed, easy-going personality and don't like drama. I live with a cat who thinks she is a dog, or a goat (she eats plastic, so I'm not sure which).
Throughout my life, I've had insomnia. Counting sheep never worked and eventually I would imagine those sheep were the sole source of food after an apocalyptic battle where only thousands survived. I made up stories in a futile attempt to bore myself to sleep. The problem was, I got so wrapped up in my "head stories" that I would continue them through the following nights, changing it up each time to make it more exciting. Eventually, I started writing my ideas down - creating short stories, and then I discovered my love for poetry.
It's almost embarrassing how many spiral notebooks and stacks of paper I have of poetry and lyrics.
Another passion: digital art. I design all my book covers, marketing, and series art. I'm a very visual person and pursued photography as an avid hobby for many years.
I am not a YA author (I feel like I have to state this only because I've had a few people ask), but I think it's wonderful there are so many books available to teens in Urban Fantasy and Paranormal.
I am finally doing what I have always wanted to do: giving my characters a pulse through writing full time. I focus on adult urban fantasy romance, but I don't like labels and I enjoy blending genres to break out of the confines of predictability.
But it's what I love to do.
Danni
You can stalk, I mean find Dannika here:
1st prize:
1 autographed paperback of Seven Years 1 key necklace 5 autographed bookmarks


2nd prize:
1 autographed paperback of Seven Years 5 autographed bookmarks


3rd prize:
1 Dannika Dark ebook (Winner's choice) 5 autographed bookmarks
Presented By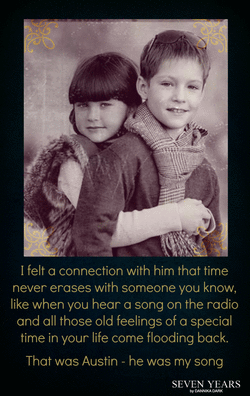 BOOK REVIEW by Michelle: 3.75 COLE BROTHERS with a side order of Lorenzo STARS!!
This is my first Dannika Dark read and I thought it was a great start to this new series.

Austin is a family friend of Alexia. He has been MIA since the death of his best friend Wes, who was Lexi's brother.

Seven years have passed since Wes's death.

Lexi works at the candy store, Sweet Treats with April. She is twenty seven years old. She has watched her school mates around her go on to have families, divorce, where she has stayed Lexi the candy seller.

Things are about to change when Austin comes back into her life.

Seven years later.

I enjoyed this first installment. I am going to be honest and say that I thought the story sometimes went places it didn't need to. It could have been shorter and tighter coming in at five hundred and forty two pages on my ereader. But, hey, I am not the author so it is kind of a mute point.

There are some great sub characters. Little Maizy is very sweet and I like how Dannika has set her character up. Naya , the stripper and best friend of Lexi's, is a quirky character I really like.

Hold on to your panties with Austin and his brothers. I can't wait to know more about Jericho the band member and Reno is an intriguing brother. Ben and Wheeler are the twins who have something going on between them. Denver is the one I really connected with in this installment. He is such daddy material the way he is with a little kid. Maizy loves him and he just has such a wonderful presence.

I'll let you read to see how all the lads got their names.

Now we have Lorenzo. He is a chappy that I thought behaved sometimes more Alpha like than Austin. He is more caveman in his approach where as Austin is protective yet at the same time he and Lexi can drag on a bit. Where Lorenzo kinda is more take what he is after or attempt to take it.
"Alexia, please don't go without giving me your number. Let's have one conversation and you can decide if I'm a bad guy or not. Unless you have a boyfriend."

These are just my personal thoughts of how I felt when reading Seven Years. Others may not feel the same as me.

Austin!! You frustrated me equal parts as you made me all swoony for you. I get that you don't want to push Lexi but ...dude!!!

Then we got this uber smexi scene that I thought was a bit short but it gave me hope. Austin has this gentleman approach but at the same time...you will know when you read it.
And then... there was the candy scene.
When I stepped back, I plucked one of the
candies from the cluster and ripped away the
wrapper with my teeth. Immediately, I sucked on it
and then held out my tongue, spinning the candy in
circles.
Austin's eyes were following every movement
as he watched the whole affair. His lips parted as
he eyed my mouth. "Keep doing that," he said in a
hoarse whisper.
Then he shocked the hell out of me when he
leaned down and licked the other side. I felt his
tongue slide against mine and I froze. Then he did
it again, only this time more slowly until he pulled
the candy away and began sucking on my candy coated
tongue as he cupped my face in his warm
hands.
The tingles were roaring.
Suckers fell to the floor with a whack! My
right leg wrapped around his waist as he lifted me
up by my thighs.
The kiss was deep, wet, and salacious. My
chin burned from how rough he was with his
whiskers as we angled our heads to the left, then
the right, and nibbled each other's lips while
discovering our groove. That comfortable groove
you get into once you learn someone through their
kiss—their moves, their rhythm, the intensity of
how they use their tongue, even where on your
mouth they linger during the kiss. Upper lip, lower
lip, left side kisser, or all over the place.
Our kiss became so expert it was as if we had
been lovers in another lifetime. His hand turned the
knob and he stumbled forward, almost falling
before he regained his balance and walked into the
dark house. The wood creaked beneath his feet as
he kicked the door shut behind him—my legs still
wrapped around his waist and my fingers
disappearing in his dark hair.
It echoed in the empty house as every sound
we made was amplified. Sucking and licking—the
wet sounds of our lips greedily giving in to the raw
nature of passion.

Beckett was a character I could quite easily have swapped out of the story line for getting to know Charlie. I kind of felt Lexi had enough lads sniffing about her. I thought the thing that happened between Charlie and Lexi could have been a real tear jerker if we had gotten to know Charlie. I thought he was as elusive a character as Charlie from Charlie's Angels. It would have made more sense to me the why of what happened between them. I mean April has the business brains and I thought April took it very well.
None of this was registering for me, because while I'd known
Charlie for seven years, we'd never discussed anything beyond my paycheck when it came to the business.

From the cootiemobile to Lorenzo and the mysterious Prince and that house full of smexi Cole brothers, this was a great start to the series. I am looking forward to reading more. I think Denver has my heart already and Reno , there is something about him that is rather growly. The twins I am still trying to work out and Jericho is going to set the girls hearts on fire.

I'm trying to work out if Reno and somebody else in this book may be getting it on. He did act rather peculiar around this person.

Prince, could there be a possible Ryodan and Dani ( Iced by Karen Marie Moning) thing going on here? One needs to wait and see.

Ivy was a character I don't know much about other than she is Ivan's daughter but she seems like a great character to get to know more about. I liked something she did in this book. She seems like she has a great soul.

There is the background mystery of Lexi's dad and what was going on there, woven through . There is a lot thrown into this story, some I loved and some I was unsure of. Austin is an unusual Alpha, I get him, I like him, but I think Lorenzo wore it better, sometimes. He certainly had the gift of the gab.
Lorenzo's voice softened and he caressed my right cheek. He drew in a deep breath and his eyes hooded. "You're okay?"

"I don't know what I am anymore," I replied in a distant voice.

"Beautiful?" he murmured against my cheek.

Lorenzo sat to my left with his right elbow propped on one of the steps. With his left hand, he tenderly caressed my cheek, then my neck, and suddenly his fingers were traveling much, much lower. Over the curve of my breast, down the slope of my flat stomach, and then he brazenly cupped his warm hand between my legs.
"Nothing is more damaging to my willpower than seeing a woman in her prime.

I definitely want to read more in this series. I can see all the four and five star reviews, so that is wonderful that others are loving it so much . I am going with 3.75 stars for book # 1. I read a lot of Urban Fantasy , Paranormal Romance, Shifter books and I am happy with my rating and am looking forward to reading more. I like Dannika's world very much. I am looking for that tighter story line for me personally that is a bit faster paced and more to the point.

Just my personal feelings, but, as I said, many reviewers are loving the hell out of Seven Years. That pleases me. So it kind of means it isn't Dannika it is me
J
Michelle