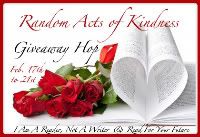 HOP FROM 12.01AM 17TH FEBRUARY 2012 ( USA TIME)
YOU CAN FINISHING HOPPING 21ST FEBRUARY 11.59PM ( USA TIME)
I HAVE LISTED ALL MY
TEAM
GUYS
THAT I LOVE FROM YA BOOKS.
WHAT I WANT YOU TO DO IS GIVE ME THE NAME OF THE SERIES EACH OF MY TEAM GUYS IS IN.
SCROLL DOWN MY RIGHT SIDE BAR AND YOU MAY FIND SOME TEAM BADGES. IF YOU ARE HAVING TROUBLE. TEAM WILL , IS CALLED TEAM WILL. I HAVE ONE TEAM BADGE HIDING ON THE LEFT SIDE BAR ( NEAR BOTTOM )
THIS WILL TEST THE YA BOOK ENTHUSIASTS.
RANDOM ORG WILL CHOOSE ALL THE PRIZES
PLEASE GFC FOLLOW US IF YOU AREN'T ALREADY AND SUBSCRIBE TO OUR EMAIL SO YOU DON'T MISS OUT ON OUR POSTINGS.
NOW FOR THE AWESOME PRIZES
IF I AM GOING TO MAKE YOU THINK
THEY HAD BETTER BE GREAT PRIZES, RIGHT?
4 CORRECT FOLLOWERS PICKED WILL WIN ONE OF THE FOLLOWING:
1ST NAME DRAWN WINS
SIGNED A4 SIZED PRINT
1 X SIGNED BY RACHEL CAINE
A4 SIZED PRINT
MORGANVILLE VAMPIRES
MADE BY SUZI MIDNIGHT
SUITABLE FOR FRAMING
5 SIGNED BOOKPLATES
SIGNED BOOKPLATES
CASSANDRA CLARE KINDLY SIGNED THESE
ON HER VISIT DOWN UNDER
1 X CITY OF BONES
1 X CITY OF ASHES
1 X CITY OF GLASS
1 X CITY OF FALLEN ANGELS
1 X CLOCKWORK ANGEL - PLEASE NOT 2 CLOCKWORK ANGEL SHOWING
YOU RECEIVE ONLY ONE OF THEM
JUST PEEL AND STICK IN FRONT OF YOUR BOOKS
MISS SUZI MADE THESE BOOKPLATES
2 X SIGNED BOOKPLATES
I AM SHOWING 2 SHEETS OF BOOKPLATES
WINNER ONLY GETS:
1 X SIGNED FORSAKEN BOOKPLATE
1 X SIGNED FORBIDDEN BOOKPLATE
NOT THE SHEET!
JANA OLIVER KINDLY SIGNED THESE FOR ME
MISS SUZI MADE THE BOOKPLATES UP
4TH NAME DRAWN WINS
FIRST 3 BOOKS
in
KIERA HUDSON SERIES
by TIM O'ROURKE
DIGITAL BOOKS ONLY
VAMPIRE SHIFT
VAMPIRE WAKE
VAMPIRE HUNT
PLUS!!!!
1 X SIGNED BY TIM O'ROURKE
A4 SIZED PRINT
KIERA HUDSON
SUITABLE FOR FRAMING
MISS SUZI PRINTED THIS UP FOR ME TO GET TIM TO SIGN
ANY FLASHES OF LIGHT IS JUST ME TAKING PHOTO
BONUS PRIZE 5 & 6
Tim O'Rourke is rocking the globe with his Kiera Hudson Series
As stated in my comments below if I got to a certain amount of entries I
would add 2 extra prizes, well we got there and past it SO
I am adding the chance for 2 extra winners to each receive
1 each signed Vampire Shift # 1 Bookplate
Peel and Stick in front of your paperback.
Tim has currently only VS in paperback and Ebook the rest of
Kiera Hudson series is only digital at this stage.
Miss Suzi kindly made these bookplates for me.
Tim kindly signed them.
GOOD LUCK!!
HAVE FUN ENTERING!!
Michelle